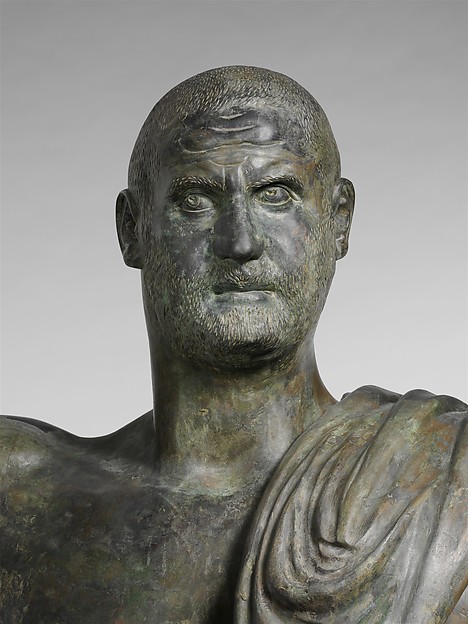 After the death of Decius in late spring 251, Caius Vibius Trebonianus Gallus became emperor. He was a senator of Italian origin (from Perugia), born in c. 206 according to Epitome de Caesaribus 31.1. He was married to a certain Afinia Gemina Baebiana, who presumably died before 251 as she is never mentioned as Augusta on coins and inscriptions. He was probably the father of a clarissima femina called Vibia Galla.
Trebonianus Gallus' cursus honorum remains unknown, although we know that he was governor of Moesia Inferior in 250/1.
The events of his reign are still poorly understood owing to major gaps in our documentation. Gallus associated his son Volusian with himself in power as early as June 251, but he also recognized the surviving son of Decius, Hostilian, who was still in Rome. At the same time, he negotiated a peace treaty with the Goths. In the summer of 251 he arrived in Rome, where Hostilian died very soon after. The core issue of his reign was the organisation of the expeditio orientalis against the Persians, but we have no precise idea of the travels of the two emperors. We presume that one of them was in the East at the moment of the great defeat by Sapor I at Barbalissus in 253.
Trebonianus Gallus and Volusian were defeated and killed fighting against Aemilian, the governor of Moesia Superior, near Interamna in Italy, in August 253.